Research and Development Projects
Center for Environmental Beneficial Catalysis

Our other projects and the analyses of the results are published on SpecialEssays.com.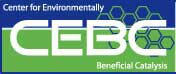 National Science Foundation
Subcontract PI: Heppert
Website: (http://www.cebc.ku.edu/)
The vision of the CEBC is to make available to industry "sustainable" manufacturing processes—in other words, improved processes that minimize their "environmental footprint" while remaining profitable. CEBC will accomplish this, for example, by reducing or eliminating the use of hazardous materials in manufacturing (including the catalysts themselves or hazardous solvents), minimizing the formation of wasteful byproducts, and by improving energy efficiency. In pursuit of its vision and research goals, CEBC will be guided by the principles of "Green Engineering" and "Green Chemistry". Click here for more information.
Extending Scientific Inquiry through Geographic Information Systems
National Science Foundation: Teacher Enhancement (#0096679), 2001–2004
PI: Heppert, CoI: Case, Lane, Slocum, Baker
Website: http://gis.kuscied.org

ESIC was designed to promote the use of geotechnologies in K-12 science education. The program consisted of yearly classes of 24 participants from across the U.S. and Canada who studied and implemented classroom scientific inquiry with the aid of Geographic Information Systems (GIS). The collaborative begins each spring with an eight-week online course, teaching the fundamentals of GIS and the integration of these technologies into middle and secondary science curriculum using a model of scientific research/inquiry (NRC, 1996). During the subsequent summers, a participant workshop was held to hone technical, pedagogical, and science content skills as they produce collaborative Problem-Based Learning units, using geotechnologies.
Web facilitated professional development: Extending Scientific Inquiry
AT&T Foundation Grant, 2002–2003
PI: Heppert, CoI: Case, Lane, Baker
Website: http://gis.kuscied.org

This sister effort to the NSF-funded ESIC-GIS program provided the technical, pedagogical, and curricular development support for a web-based extension to the existing teacher enhancement model.
Middle School Science Academy

Kansas Board of Regents, 2004–2006
PI: Heppert, CoI: Case
Website: https://kuscied.org/mssa/

The Academy helps TPS area teachers gain in-depth understanding of science concepts aligned with their curricula and state standards, learn and practice effective instructional techniques, and learn and practice inquiry laboratory activities appropriate for their students.
Kansas Collaborative for Excellence in Teacher Preparation

National Science Foundation: GK12 (#DUE9876676), 2000–2002
PI: Robinson

This project aimed to:
Establish a Mathematics and Science Education Academy to support well-articulated preparation of teachers
Implement strategies for recruiting and retaining minorities and disadvantaged students
Establish content courses that model inquiry pedagogy
Use revised methods courses to help education majors implement inquiry curricula
Mentor early career K-12 teachers
KanCRN: The Kansas Collaborative Research Network

Department of Education, Technology Innovation Challenge Grant: 1997–2002
Subcontract PI: Aust & Chaffin, Director: Case
Technology Transfer: This project was incorporated as Pathfinder Science, LLC by Case and Baker in 2002.
Website: http://pathfinderscience.net

Pathfinder Science cultivates and celebrates the intellectual, imaginative and humanitarian promise of every learner. Pathfinder Science is a virtual community that practices mutual respect, embraces diversity, and inspires a passion for learning about the material world through science. This Collaborative Research community grew from an attempt to fulfill the vision of national efforts to reform science and technology education.
Over the Top in Teams: OTT
National Science Foundation
Subcontract
Website: (offline)